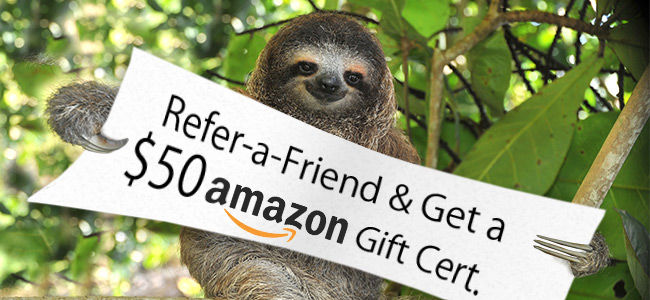 The Namu Travel Group now includes Costa Rican Vacations, Panama Vacations and Nicaragua Vacations. We have grown with the support of our many happy customers and we'd like to return the favor to those who help us out.
Through our Refer A Friend Program we will reward you with a $50 Amazon.com Gift Certificate for every client that you send our way that books a vacation. Once their trip to Costa Rica, Panama or Nicaragua is booked, we will email you your Amazon.com gift voucher within 30 days. Then all that's left to do is start shopping.
*Restrictions:
New client must create their own itinerary with their own payment option (meaning it is not linked to other existing itineraries)
The booking value must be at least $1,000.00 per itinerary
Be able to establish how & by whom they were referred (i.e. by a friend that booked with us)
Clients cannot refer themselves
Anyone can refer as many clients as they like, as long as each new itinerary is separate
It is the responsibility of the guest reserving the trip to provide the referrers' e-mail at the time of booking . We are not responsible for inaccurate e-mails.
Referrers' e-mail should be valid for at least 30 days once referred client has booked.
A client cannot claim that they were referred after they have traveled.
Clarification of referral must be confirmed at the time of booking to be valid.
If you have any questions or comments about our referral program, don't hesitate to contact us at sales@namutravel.com